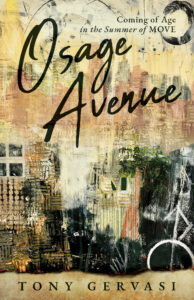 OSAGE AVENUE:
Coming of Age in the Summer of MOVE
On May 13th, 1985, the city of Philadelphia did the unthinkable: dropped a bomb on its own people. 6221 Osage Avenue—the home of the anarcho-primitivist MOVE organization—burned, along with sixty-one nearby homes.
Fourteen-year-old Trigger witnesses the bombing and its aftermath. He's left to make sense of what happened and what it means for his own struggle to survive. A devastating car accident took his mother, confined his older sister in a wheelchair, and left his father despondent and angry. Trapped in his damaged community, Trigger wanders between the ashes of MOVE and the Philadelphia Zoo, where he escapes the turmoil at home and works part-time for his boss, a kindly man who takes Trigger under his wing.
Based on a true story, this narrative biography covers one heated summer in the life of a wounded boy stuck in a broken neighborhood, and how he deals with life, hoping to emerge in a better place.
ISBN: 979-8-9859413-2-6
LCCN: 2022937670
Trim Size: 5.5 x 8.25  Length 248 pages
Trade Paper: $17.00/eBook $11.99
Publication Date: October 15, 2022
Media and Bookseller Information
SAVING KATIE: A Father's Story
Shortly after the birth of their daughter Katie, Steve and Stacy Trebing encountered every parent's worst nightmare: the discovery that their child had a devastating disease. Diagnosed with Diamond Blackfan anemia (DBA), a rare bone marrow affliction, Katie would have to bear a lifetime of monthly transfusions and daily injections unless she underwent a risky bone marrow transplant from a genetic match.
But even if the Trebings were willing to take that risk, how would they ever find the right donor? The only option seemed to be to have another child, one genetically chosen to be that perfect match.
Steve Trebing's emotional—and ultimately uplifting—memoir describes what it was like to care for Katie, and to ultimately reach the decision to have another child, a savior sibling for their precious daughter.
ISBN: 979-8-9859413-0-2
LCCN: 2022935948
Trim Size: 5.5 x 8.25 Length: 282 pages
Trade Paper: $17.00 / eBook: $11.99
Publication Date: November 11, 2022
Media and Bookseller Information
Carrie Cariello has been amusing and enlightening tens of thousands of readers for a few years now, and in that time her children have started to grow up. With those changes come not only the conventional concerns all parents have ("When will I have to have The Sex Talk?") but also concerns unique to those raising an autistic child.
In this lovely new collection, based in part on essays written for her very popular blog, Carrie now shares these stories with us as she begins to explain to Jack–her autistic son–and her other four children exactly what it means to live with this baffling, intriguing, and ultimately loving condition.
ISBN: 978-0-9847927-5-7
LCCN: 2014958321
Trim Size: 5.25 x 8.0 Length: 224 pages
Trade Paper: $16.00 / eBook: $9.99
Mike Freeman was raised with a passion for nature, a passion that came from his father, a man who could name a bird from its call and could explain the life cycle of dragonflies and hellgrammites.
Now, having spent most of his life harried by the ageless questions of mortality and creation while spending time in the natural environments of Pennsylvania, Vermont, and Alaska, Mike suddenly finds himself a stay-at-home father in New York City. Unsure of himself as a parent, he reflects upon both his own upbringing and adulthood.
While unraveling a lifetime of fishing, birding, hunting, and trapping with his father, he realizes how fortifying the outdoors are to all relationships, secular and otherwise.
Written with depth and beauty, Freeman (who is the author of one previous book and has twice been cited for Honorable Mention in Best American Essays), takes us both outside, into the wild, and inside, into the soul. As he struggles with what he's learned and then decides to pass those lessons along to his own children, we get a unique glimpse into a man who lives purely for the wonders the world brings. Neither Mountain nor River is a testament to this understanding, and how an acceptance of uncertainty can equally strengthen marital, parental, and spiritual bonds.
ISBN: 978-0-9847927-8-8
LCCN: 2014936979
Trim Size: 5.25 x 8.0 Length: 260 pages
Trade Paper: $16.00 / eBook: $9.99
Michael Charney has concluded that Glenn Beck doesn't like him. That's okay, though, since Michael doesn't like Beck all that much either, nor any of the other microphone-wielding extremists who have taken over the political dialogue.
Setting out to discover how and why extreme ideas have such momentum, Michael set himself up with a Twitter account–@BeckIsALib–and began tweeting about how Glenn Beck was a closet liberal. Then things got really strange….
ISBN: 978-0-9847927-0-2
LCCN: 2011960116
Trim Size: 5.5 x 8.5 Length: 260 pages
Trade Paper: $9.95 / eBook: $5.99
Tea With the Mad Hatter, an essay collection from political author and former podcast host Michael Charney, chronicles the rising tide of America's "electile dysfunction."
These essays tell a story, one in which a formerly respected legacy has slowly deteriorated, has found itself hijacked by extremism, anger, emotion, and rhetoric, all fueled by a technological revolution that amplifies messages to volumes unthinkable only a generation ago.
At times funny, at times thoughtful, and at times poignant, Tea With The Mad Hatter will assuredly make you look at America's political climate with a fresh perspective.
eISBN-13: 978-0-9847927-6-4
eBook only: $4.99